The Allie Sunshine Project's Education Team is a focused effort to incorporate learning and growing in the realm of personal wellness. This team is passionate about invigorating the excitement of self-discovery and promoting experiences meant to open hearts and minds to new ways of thinking, healing and being. The team offers opportunities that are led by wellness practitioners and pioneers to connect, learn and create among members of your community,
Many of the Education Team's events take place in the Healing Garden, which allows for a multitude of nature-based adventures designed to deepen our connection to nature and to encourage health and wellness of body, mind and spirit. Hosting Wellness Fairs and Summer Wellness Events, the team has also offered Garden Wondering, Bouquet Creation, Meditation, Yoga, Forest Therapy, Poetry Writing, Cello and Flute concerts, and Drum Circles. These gatherings never disappoint. The garden provides fresh air, beautiful sunsets, birdsong, and powerful connections to mother earth while our wellness explorers provide their presence, personal energy, and wisdom.
Our online Winter Wellness Series has offered the healing benefits of artistic expression through painting, texture art and journal writing as well as workshops on garden planning, chakras, and crystal energy. These virtual visits brightened the long winter months with the sunshine of learning something new!
We are always looking for new ideas and members to join The Education Team.
If interested, contact Lynn Hayes at: lhayes@thealliesunshineproject .com
Ruth Ann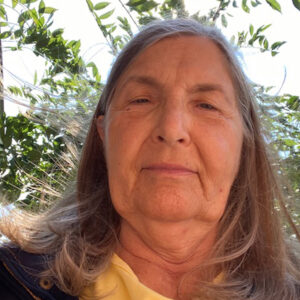 Education Team Member
My name is Ruth Ann and I am a retired social worker who continues to enjoy engaging with people for opportunities in growth and spiritual development. I have been involved with the Allie Sunshine Project for a number of years, first on the board as the Healing Guide and then as an ongoing member of the Education Team. Currently I have stepped back from daily operations on the Education Team and continue to be an advisor as needed. I am interested in caring for Mother Earth and Indigenous concerns. I hope to network with community stakeholders as we address these larger concepts and work together.
During my time on the Education Team, I have found it very fulfilling to see the Healing Garden develop programs focussed on aspects of health and well-being including yoga meditation and drumming, among others. For me, these programs together with the physical gardening are the heart and soul of The Allie Sunshine Project. I look forward to being part of the ongoing development of the Healing Garden and the programming that is offered in the community.
Deb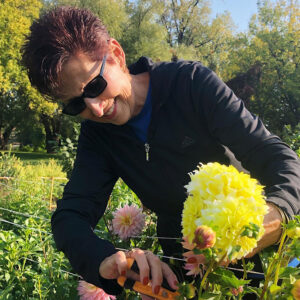 Education Team Member
Shortly after my retirement from the University of Windsor, my son Shawn, told me about The Allie Sunshine Project through his friendship with its Visionary Director, Jeremy Hayes. I have a love for gardening, so after speaking with Jeremy I began my journey as a Ray of Sunshine volunteer that summer. I help to maintain the gardens and I make our Bouquets of Sunshine that we sell using the beautiful flowers grown in the gardens. In the past year, I have also started to help out with the Education Team. Over the winter during the pandemic lock-downs, the Education Team arranged zoom classes. The classes were taught by local professionals on art, wellness, nature, and gardening. When Spring came we managed to extend these wonderful classes outdoors. We have been lucky to meet and make many new friends. Several join us in our Magic Monday sessions for a little meditation and a time with nature. The Education Team has helped me to understand that nature provides a great deal of well-being for all of us, young and old, and I'm happy to pass that along.
Lynn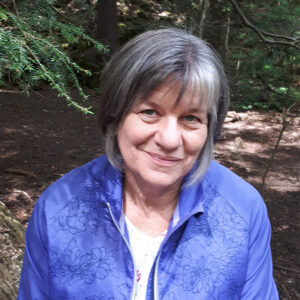 Founder of The Allie Sunshine Project and Education Team Member
Always curious and wanting to understand the how's and why's of life or "what makes us tick", has led me to be involved in education my entire life. Education to me means being aware of my "aha" moments and to share those moments of new awareness with others. To share this spark of new understanding in a relationship is the thrill of working in education. Retired from teaching formally for 40 years in local elementary schools and adult learning courses, I now love learning and exploring life with my four grandsons. Being present for the magic of their learning always teaches me volumes!
As founder and current lead of The Allie Sunshine Project Education Team, I am passionate about learning, in its many forms and experiences. I have recently completed my M. A. in Social Sciences with a concentration in Creating Learning Communities. These studies have expanded my views on education and the impact of learning in the community.
"Never doubt that a small group of thoughtful, connected citizens can change the world: indeed, it's the only thing that ever has."

Margaret Mead
As both a student and an educator, I am excited to explore and promote the learning opportunities available to The Allie Sunshine Project community. The freedom to follow the interests, questions, and wisdom of this intergenerational community of wellness explorers as we learn together, is both contagious and invigorating. Come join us soon!